A THEOLOGY OF GOSPEL TEAMWORK
WHAT IS TEAMWORK?
WHAT IS TEAMWORK?

SECULAR TEAMWORK

GOSPEL TEAMWORK

WHY TEAMWORK?
Warning: I am going to quote a lot of sources! Download The References Here
WHAT IS TEAMWORK?
SECULAR TEAMWORK:
Working together for (and keeping each other accountable to) a common goal.
Teamwork is popular in the world. It draws from a kind of secular wisdom. In exceptional teamwork we get small glimpses of God's divine nature (and what humans were created for). That's why teamwork is so magnetic! But human teams are tainted by sin. They can just as easily create evil. Secular teamwork, while it has some wisdom, is a shadow of something more.
Ecclesiastes 4:9-12. Two are better than one, because they have a good reward for their toil. For if they fall, one will lift up the other. But woe to the one who is alone when he falls and has not another to lift them up! Again, if two lie together, they keep warm, but how can one keep warm alone? And though one might prevail against one who is alone, two will withstand – a threefold cord is not quickly broken.
NOT ALL GROUPS ARE TEAMS!
"Not all groups are teams… The essence of a team is common commitment to a mutually agreed goal for which it holds itself responsible." – Gordon Jones. Teamwork (p. 20)
EXERCISE 1
IDENTIFYING GROUPS AND TEAMS
[ In pairs – under 5 mins ]
LIST AT LEAST 7 GROUPS IN WHICH YOU ARE INVOVLED.
E.g. Congregation, families, clubs, work, Social media groups, RSL, RACV, Quidditch club, Collingwood membership, etc.
"Not all groups are teams… The essence of a team is common commitment to a mutually agreed goal for which it holds itself responsible." – Gordon Jones. Teamwork (p. 20)
BASED ON THE DEFINITION, WHICH ON YOUR LIST ARE TEAMS?
WHY?
GOSPEL TEAMWORK:
Shared participation in the Gospel.
Christianity is unique among major religions in presenting One God who eternally exists and functions as a divine team. – Hartwig & Bird. Teams That Thrive. (p.44)
Nothing in this Trinity is before or after, nothing is greater or smaller; in their entirety the three persons are coeternal and coequal with each other. – The Athanasian Creed
When we hear the names, Father and Son and Holy Spirit, we sense that in the mystery of God there must be a wondrous community. It is only from the perspective of the Trinitarian God that we can claim that "God is Love," because love is never alone. Instead, it brings together those who are separate while maintaining their distinct characters… The prayer of Jesus that "you may be one in us" is a prayer that is answered. Whether we know it or not we not only believe in the triune God, but also "live" in the triune God. – Jürgen Moltmann, 'The Triune God Rich In Relationships'
Genesis 1:26. Then God said, "Let us make man in our image, after our likeness…"
Genesis 2:18. "It is not good that the man should be alone…"
Imago Dei – the image of God vs. In curvatus in se – curved in on ourselves.
A study of Paul's ministry in Acts and his writing in the Epistles reveals that at least 36 people (out of the 100 or so mentioned being associated with him) were, at some point and to some degree, part of his ministry team(s). – Bruce Hills. Together: Five Enduring Principles for Effective Teamwork (p. 13).
KOINONIA: Common sharing, common life together. One of the most important words in the New Testament. Jesus brings us into koinonia with God, common life, shared life with God. Christian community is common life with each other in Jesus.
Philippians 1:3-5a. I thank my God in all my remembrance of you, always in every prayer of mine for you all making my prayer with joy, because of your partnership in the gospel…
κοινωνίᾳ εἰς τὸ εὐαγγέλιον
koinonia in the euangelion
shared community/participation in the gospel
D.A. Carson defines Christian fellowship as "self-sacrificing conformity to the gospel." [D.A. Carson Exposition of Philippians]. Building on that definition, Christian teamwork could be defined as "self-sacrificing conformity to the gospel for the advancement of the gospel." A team of educators comes together for the purpose of educating. Christian teamwork comes together for the gospel. But the gospel is not merely the goal of Christian teamwork, it is the grounds of Christian teamwork. – Jeff Mingee at www.servantsofgrace.org/the-gospel-and-teamwork/#_ftn2
Real Teamwork (for which humans were originally designed) is truly possible in the Gospel which brings us back into healed community with the Trinity. The Gospel of Grace binds us together in Christ and into a divine team and creates a deeper common shared life. Fellowship is not just coffee; it's working together and participating in the life and mission of Jesus. This kind of deeper teamwork is how the Gospel spreads!
EXERCISE 2
A BRIEF PAUSE TO BREATHE
[ Groups of 2 or 3 – under 5 Mins ]
Turn to 1 or 2 people nearby.
Share just one thing you have noticed that is important for you.
Pick one of the following Bible readings and share why you picked it!
Philippians 1:7-8. Because I hold you in my heart, for you are all participants with me of grace… For God is my witness, how I yearn for you all with the affection of Christ Jesus.
Philippians 2:1-3. So if there is any encouragement in Christ, any comfort from love, any participation in the Spirit, any affection and sympathy, complete my joy by being of the same mind, having the same love, being of one mind and one purpose.
Philippians 2:5-6. Have this mind among yourselves, which is yours in Christ Jesus, who, though he was in the form of God, did not count equality with God a thing to be grasped…
Philippians 4:2-3. I entreat Euodia and I entreat Syntyche to agree in the Lord. Yes, I ask you also, true companion, help these women, who have laboured side by side with me in the gospel together with Clement and the rest of my fellow workers…
Ephesians 4:15-16. Rather, speaking the truth in love, we are to grow up in every way into him who is the head, into Christ, from whom the whole body, joined and held together by every joint with which it is equipped, when each part is working properly, makes the body grow so that it builds itself up in love…
Mark 10:42-45. You know that those who are considered rulers of the Gentiles lord it over them, and their great ones exercise authority over them. But it shall not be so among you. But whoever would be great among you must be your servant, and whoever would be first among you must be slave of all. For even the Son of Man came not to be served but to serve, and to give his life as a ransom for many.
1 Corinthians 12:27. Now you all are the body of Christ and individually members of it.
WHY FOCUS ON TEAMWORK?
FOUR REASONS WHY TEAMWORK IS INFINITELY BETTER
1. Teams do mission better than individuals.
A united team Is always stronger than a solo leader.
2. Teams are more creative than individuals.
The reformation was not the work of one person. Most innovative solutions are rarely the insight of a single individual. They're actually the product of many people over time, or a large team behind the person who was seen as the innovator!
3. Teams prevent abuse of power.
A team setting counters the tendency for pastors to form congregations in their own images. – Adam S. McHugh, Introverts in the Church
A community of leaders has the ability to maximize a pastor's [or leader's] strengths, while simultaneously intercepting and derailing potential abuses of spiritual authority before irreparable damage is done. – Joseph Hellerman, quoted in Hartwig & Bird. Teams That Thrive (p. 58).
4. Good teams mitigate against burnout.
One of the primary causes of pastoral burnout and turnover is lack of community. Too many pastors are seen, or see themselves, as a "sacred person over the church who can never really become a part of the congregation." Leadership teams combat such isolation, pushing pastors to experience community, which they can then also use to model community to the church. – Hartwig & Bird. Teams That Thrive (p. 59).
EXERCISE 3
QUIET TIME AND PRAYER PARTNERS
[ Alone 5 mins – then with a partner for 5 mines – total 10 mins ]
FIRST ALONE:
Read the quote below from Gene Wilkes.
Quietly reflect on the list of reasons teams are superior.
Which of these do you need/desire in your ministry? Circle one.
THEN TOGETHER WITH SOMEONE ELSE:
After the quiet time join with another person.
Share with them what you circled.
Pray for each other to receive this in their ministry.
QUOTE FROM GENE WILKES: BENEFITS OF TEAMS
Servant leaders flourish with ministry teams. These teams are how leaders do their best work. Teams are superior to individual effort for several reasons:
Teams involve more people, thus affording more resources, ideas, and energy than would an individual.
Teams maximize a leader's potential and minimize her weaknesses. Strengths and weaknesses are more exposed in individuals.
Teams provide multiple perspectives of how to meet a need or reach a goal, thus devising several alternatives for each situation. Individual insight is seldom as broad and deep as a group's when it takes on a problem.
Teams share the credit for victories and the blame for losses. This fosters genuine humility and authentic community. Individuals take credit and blame alone. This fosters pride and sometimes a sense of failure.
Teams keep leaders accountable for the goal. Individuals connected to no one can change the goal without accountability.
Teams can simply do more than an individual.
Teams are how Jesus did ministry.
From Gene Wilkes. Jesus on Leadership: Timeless Wisdom on Servant Leadership (p. 212).
GARDENING FOR GOSPEL TEAMWORK
TEAMWORK AS GARDENING
One who can grow a garden can grow a church. – A Pastor from PNG
Ministry is like farming, sometimes you're ploughing, sometimes sewing seed, sometimes harvesting, and sometimes doing nothing while it grows! – Bishop Noel Noack
1 Corinthians 3:5-9. What then is Apollos? What is Paul? Servants through whom you believed, as the Lord assigned to each. I planted, Apollos watered, but God gave the growth. So, neither the one who plants nor the one who waters are anything, but only God who gives the growth. The one who plants and the one who waters are one, and each will receive their wages according to their labour. For we are God's fellow workers, and you are God's field…
Perhaps the hardest thing for many ministry leaders to realize is that teamwork can't be forced to happen, any more than a garden can be forced to grow… Gardeners foster fertile growing conditions through cultivating and fertilizing the soil, watering and weeding – and waiting patiently. Ministry leaders can also do much to cultivate fertile circumstances for teamwork. Four interpersonal processes are crucial: interaction, influence, self-control, and trust. – Phil Van Auken, Managing Christian Ministry In Teams.
[Christian] Leadership… is about asking questions, coaching, and cultivating spaces and practices of discovery. It assumes the best learning takes place by doing, by behaving our way into a new future and by bringing discipled reflection into that behaviour. – Dwight J. Zscheile, Cultivating the Spirit's Leadership in Congregational Life (p.80)
KNOWING THE LANDSCAPE
WHAT IS THE CONTEXT AND WHO IS THE TEAM?
Every day, people have problems for which they do, in fact, have the necessary know-how and procedures. We call these technical problems. But there is a whole host of problems that are not amenable to authoritative expertise or standard operating procedures. They cannot be solved by someone who provides answers from on high. We call these adaptive challenges because they require experiments, new discoveries, and adjustments from numerous places in the organization or community. Without learning new ways – changing attitudes, values, and behaviours – people cannot make the adaptive leap necessary to thrive in the new environment. The sustainability of change depends on having the people with the problem internalize the change itself. People cannot see at the beginning of the adaptive process that the new situation will be any better than the current condition. What they do see clearly is the potential for loss… When people look to authorities for easy answers to adaptive challenges, they end up with dysfunction… – Heifetz & Linsky. Leadership on the Line. (pp. 26-27).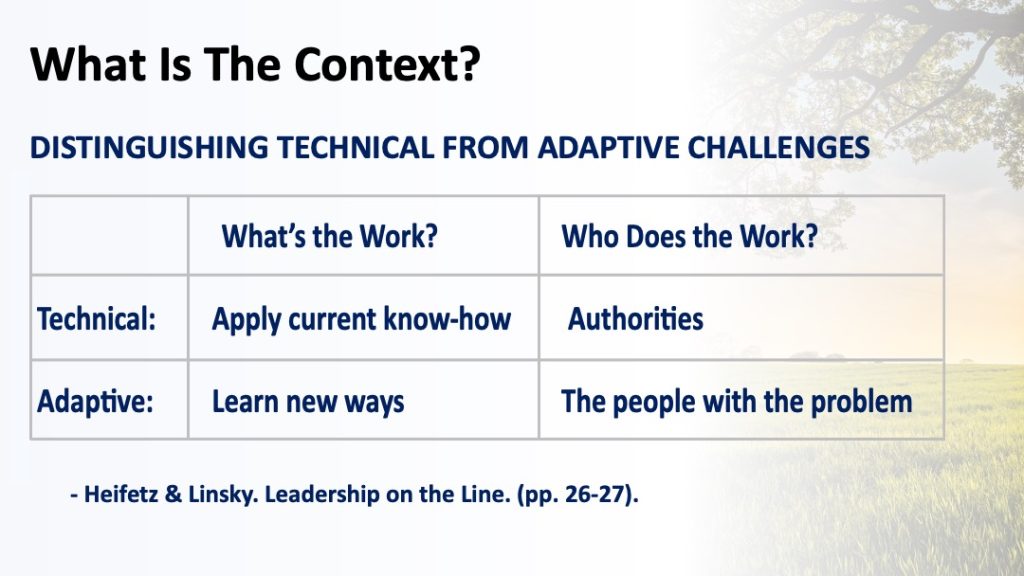 Our job as ministry leaders is to foster spaces of grace where people can hear from the Holy Spirit, where that Gospel Teamwork can face the challenges and discover God's new ways for us.
Most companies are run by teams with no names and most of the world's best executives make decisions in ways that don't show up on an organization chart or process flow diagram…. Identifying your actual leadership "team" might not be as simple as you think. Too often the officially named group is not the actual leadership team. Sometimes no group exists on paper, but one does in reality. On rare occasions, the leadership "group" is largely just one person… – Hartwig & Bird, Teams That Thrive (pp. 28 – 32).
EXERCISE 4
IDENTIFYING THE LANDSCAPE
[ 5 mins alone – then 10 minutes with a partner ]
WHAT IS YOUR CONTEXT?
What challenges are you or your ministry facing at the moment?
What of those are technical (old solutions exist)? 
What are adaptive (new landscapes)?
How might teamwork improve the way you approach them?
WHO IS YOUR TEAM?
Hartwig & Bird write, "Too often the officially named group is not the actual leadership team."
Who is the official leadership team in your congregation or ministry?
Who is the actual leadership?
How healthy is that leadership?